We Outmaneuver Our Opponents
Protecting Your Legal Rights After A San Antonio Car Accident
If you are involved in an auto accident in San Antonio, life can change in an instant. An automobile accident can leave you with devastating injuries that require hospital stays and multiple visits to the doctor and physical therapist, which means missed days from work, lost wages and mounting medical bills to pay. You need our experienced car accident attorneys in San Antonio, Texas.
Dealing with the aftermaths of a car accident can be extremely stressful for you and your family, particularly if your financial future seems uncertain. When you're trying to recover from serious injuries, the last thing you need is to worry about how you will cover the cost of your medical care.
With the help of an experienced San Antonio car accident lawyer, you can seek the compensation you are entitled to and help protect your financial security. The law is there to protect your interest, so speak to one of our skilled lawyers today to find out how you can make a claim.
San Antonio Car Accident Attorneys
Auto Accidents happen every day on Texas roads and is a horrible experience. In fact, in 2016 alone, more than 265,000 people were injured in road traffic accidents. From pedestrians to cyclists and motorists, no one is safe on the roads.
What's even more worrying is that many of these accidents were entirely preventable. Often, you will find that drivers caused an accident because they were speeding, driving under the influence, or simply distracted by their phones. It's a serious problem that has led to many lives being destroyed.
If you have suffered a personal injury or property damage in a San Antonio car accident where someone else was to blame, then you have a right to seek compensation for damages sustained. The law is there to protect your interest; you shouldn't have to pay for someone else's negligence.
If you need help understanding whether or not you have a viable claim, then contact one of our experienced car accident attorney for more information. Our lawyers have dealt with countless auto accident claims over the years for many clients and have more experience and a thorough understanding of Texas state laws, so we will be able to provide you with the help you need.
What Are The Causes For Car Accidents?
Car accidents can happen due to various factors. At times, it's the mechanical defect in vehicle. Other times, it's distracted drivers or drunk drivers at fault. Read through to know the most common causes of car accidents:
Speeding
Reckless Driving
Drunken Driving
Driving While Under the Influence of Drugs
Driving While Drowsy, Tired
Texting While Driving
Defective vehicle
Disobeying traffic laws
Poor Weather
No matter what type of car accident you're dealing with, if you or your loved one have serious injuries due to the car wreck, don't hesitate to contact our qualified team of car accident injury lawyers in San Antonio, Tx. The attorney who handles your case , reviews every possible reason for the car crash and helps protect your legal rights and get the settlement you're entitled to, from the insurance companies and the negligent drivers.
Common Car Accident Injuries
Car accidents can cause a range of injuries, from relatively minor ones to far more severe ones that can leave you dealing with pain and suffering for years to come. Some of the injuries we commonly see are:
Neck Injuries including whiplash
Chest Injuries
Back Injuries
Head and Brain Injuries
Limb Injuries
Of course, these are just some of the injuries a car accident victim can experience. No matter what type of injury you have suffered, don't hesitate to contact a skilled San Antonio auto accident attorney from the law firm of Carabin Shaw, Texas who will fight for your rights to recover the full benefits you deserve and need for your recovery after serious injuries.
Damages that Can Be Recovered After a car accident in San Antonio
Life gets more complicated and overwhelming after a car accident, when you or your loved one is injured. Victims of an auto accident and their family are entitled to recover certain kind of damages including:
Medical Expenses
Lost Wages (present and future)
Pain and suffering
Property Damages
Punitive Damages
During our initial consultation with clients we review all the possible damages that can be recovered in your individual case.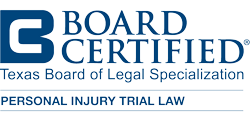 MEETING YOUR NEEDS – EXCEEDING YOUR EXPECTATIONS
Let The San Antonio Law Firm Fight The Insurance Companies
After you have been injured in a car accident, you don't want to be caught off guard. You need to be prepared to fight to protect your rights, so you aren't left dealing with the costs associated with the auto accident on your own.
You should never deal with an insurance company directly following the car accident. Contact reputable car accident attorneys in San Antonio, TX for the case consultation. We can help you get the compensation you deserve. Insurance companies do not have your best interests at heart, as much as they may want you to believe that.
They run just like any other business and are only concerned about maximizing their profits. Unfortunately for the victim, that means paying as little as possible. Our car accident lawyers believe that all our clients deserve to receive full compensation and will not rest until justice is served.
Every car accident lawyer from our law firm knows what it's like to go up against big-name insurance companies and we know how to handle them. They will do what they can to minimize your claim and pay the least amount possible, but we won't let you settle for less than you deserve. With our car accident injury lawyers, fighting hard for your personal injury claim, you know you stand the best chance of obtaining a sizeable settlement or verdict.
What to do after a car accident?
If your are involved in a car accident in San Antonio, the first thing you have to do is stop the car immediately, don't panic, stay calm. Check if you or your co-passengers are injured. If you think anyone of you is seriously injured, wait for the emergency team to reach. Call 911 to keep them informed about the crash. The police department or Fire service department will immediately reach the accident scene. Stay calm and answer to all the questions asked by the local police. Provide them with every information needed in your case.
Take pictures or videos of the crash scene, damaged vehicle/property. Cover even a small scratch which will help you in your case claim. Make sure that the other driver is not seriously injured in the accident and if possible, collect the other driver's name, contact number, insurance information, vehicle registration number.
Call car accident attorney in San Antonio, Tx for consultation. Every lawyer from our law firm have years of experience in dealing with such car crash cases and help you claim for the settlement you deserve.
Time left to file a lawsuit, after a car crash in San Antonio
In Texas, a car crash victims have two years to file a lawsuit against the negligent driver, from the date of the accident. The sooner you contact an experienced attorney, the earlier you can file a case and proceed with your settlement claims.
Contact Our Experienced San Antonio Car Accident Lawyers Today
If you or your loved one have been injured in a car accident caused by another driver's negligence, then you have the right to seek fair settlement compensation for damages incurred. We know that you need to focus on your recovery, so let our Texas law firm handle your claim quickly and professionally, so you can continue with the healing process.
Call our car accident attorney in San Antonio, Texas at 210-463-4308 for an initial consultation and let us work tirelessly to protect your legal rights and obtain the compensation you rightfully deserve.
T
RIAL SUCCESS – "defending and protecting"