We Outmaneuver Our Opponents
Building a Compelling Case Aiming For Successful Truck Accident Claims
Accidents caused by a Commercial Truck, also known as 18 Wheelers, Semi Truck, or Big Rigs, frequently result in life-changing injuries or even death. Those who survive are often left dealing with serious pain and suffering, along with substantial medical bills. It's a difficult time for victims and their loved ones, made all the more difficult when you lack knowledge of state laws and don't know who to turn to for help getting the compensation you need.
We know how frustrating and confusing this situation can be for truck accident victims and do everything we can to help defend the rights of those who suffer because of someone else's negligence.
Find Truck Accident Lawyer In San Antonio, Texas
To find out how our truck accident attorneys at our Law Firm can help you with your claim, call us at 210-463-4308. Being an experienced attorney, we represent clients suffering from a broad range of injuries and know that during this difficult time, your recovery is what matters most during this difficult time. Let us help you pursue justice for your damages so you can focus on getting your life back on track and do everything we can to help defend the rights of those who suffer because of someone else's negligence.
San Antonio Truck Accidents Leave Victims With Serious Injuries
There are many different types of trucks on the road of San Antonio, but they can all pose serious hazards to motorists due to their unique size, weight, and shape. It's very difficult to regain control of such a large truck once you lose it, which is why in many cases, the results are catastrophic.
Some Common Injuries That Occur In A Truck Accident Include:
Truck Accident Injuries can cause a devastating effect on the life of injured victims. Catastrophic truck accident poses severe health issues to injured victims that require long term medical treatment.
Brain Damage or Traumatic Brain Injuries
All Drivers have a right to expect all  people to drive safely and follow road traffic rules. If you have suffered a personal injury in a truck accident in San Antonio, TX, or the surrounding areas that weren't your fault, then those accountable should be held responsible. Our Truck Accident Lawyers work tirelessly for our clients to ensure those who caused the accident are held accountable for the pain and suffering they cause by suing the trucking company responsible for the accident. Being experienced truck lawyers, we thoroughly understand the police reports and endeavor to get maximum compensation based on the damages incurred by the truck accident victims.
Drivers Negligence -A Major Cause For Truck Accidents 
18 wheeler accidents in San Antonio are unfortunate and can be  fatal. Most of the time, accidents involving large commercial 18 wheelers are due to the reckless or aggressive behavior of the truck driver. Such Causes can include:
Improper commercial vehicle maintenance
Failure to obey traffic law
Irrespective of the cause, if you or your loved one is injured or any property damage caused in an accident with a commercial truck, contact our experienced San Antonio injury lawyers right away to protect your rights by receiving personal injury Claims.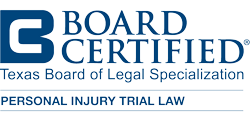 TRIAL SUCCESS – "defending and protecting."
Seek Fair Compensation For Truck Accident Victims:
When you suffer a severe injury in a San Antonio trucking accident, you can often be left asking yourself how your injuries will affect you for the rest of your life. You may be wondering how long you will be off work and how you will pay your bills if you can't earn a living.
Our San Antonio truck accident lawyers have helped countless accident victims through these challenging times. Our goal is to help clients obtain the compensation they deserve by taking into account any losses that include punitive damages and suffered as a result of the commercial truck accidents. We can hold truck owners liable for any losses held by the
Types of Losses can include:
Surgery and Rehabilitation
The Truck accident Settlement you are entitled to will depend on your case, but our lawyers will work hard and look into every detail of your case to maximize your compensation. We understand how difficult it can be dealing with piling bills, and we want to help you obtain a more secure financial future by filing a truck accident lawsuit in support of our client's right to compensation.
Hire Our Firm's Accident Lawyers To Fight For you:
In many cases, you'll find that the commercial trucking companies are self-insured. That is why they will do everything in their power to mitigate their legal liability and avoid compensation. Insurance companies will often swoop in at the first available opportunity with a low settlement offer hoping that the injured party or  families members will accept that first offer.
We understand that you will want to focus on your injury during this time and not have to worry about dealing with insurance companies. However, this is the time to think about your financial future and ensure you obtain rightful compensation.
With our experienced San Antonio truck accident lawyer fighting your case, you know. you can focus on what matters most; your health and recovery. We will thoroughly investigate the accident to determine who is legally liable for your injury and build a compelling case that gets you the best possible results. You can trust us to resolve the legal issues, so you can put your time and effort into making a full recovery.
FAQ
Are 18 wheelers Safety Regulations Followed?
Casie Mason
2021-02-10T08:01:43+00:00
Large trucks are always a big threat on roads, especially on highways. However, trucks are an inevitable part of improving a country's economy, of transporting heavy goods between cities. Some state and federal government agencies like the Federal Motor Carrier Safety Administration (FMCSA) are formed to regulate the trucking industry and place rules and regulations on truck drivers and trucking companies. These rules make it safer for other drivers These regulations can also come into the picture during a court trial to prove drivers' failure to adhere to rules.
Even though FMCSA is instrumental in deriving safety regulations for 18 wheelers, Commercial vehicle accidents are increasing day by day.
Why should you hire an experienced truck accident lawyer right away for a Successful claim from the insurance company?
Casie Mason
2021-02-10T07:59:35+00:00
The aftermath of a trucking accident can be frustrating and confusing, especially when dealing with injuries. Make sure to get legal assistance as soon as possible. Your accident lawyer reviews the crash scene and works on securing all the evidence immediately.
Evidence begins to disappear soon after a crash occurs. This includes physical evidence from the crash scene and paper trails, such as truck driver safety records, maintenance logs, and any history of bad behaviors.
What can a San Antonio Truck Accident attorney do for you?
Casie Mason
2021-02-10T07:38:55+00:00
It's time to hire a truck accident attorney as soon as possible after a truck accident that wasn't your fault. Our law firm expertise the Texas laws, and our team knows how to get results. Get the compensation you deserve with our San Antonio truck accident attorney team. Contact us now for an initial consultation.
Contact Our San Antonio Truck Accident Lawyer Today
When you or your loved one is injured in a truck accident in San Antonio because of someone else's negligence, you have legal rights. The team of attorneys at our law firm is here to help you protect your legal rights so you can help protect your financial future.
To discuss the details of your truck accident case with one of our experienced personal injury attorneys, call us at 210-463-4308. Don't delay; contact us today to ensure you get the fair and best compensation you deserve.
W
E WORK FOR YOU – "meeting your needs"